You Are Here:
Classic Romances
Classic Romance
Authors of classic romances for young readers whose love stories remain perennial favorites.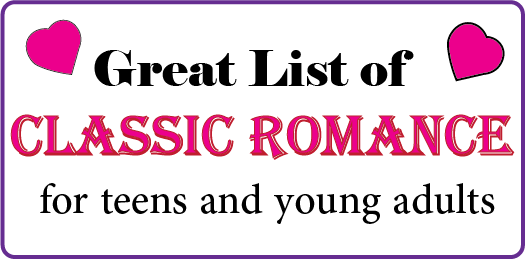 When a young reader outgrows the fairytale princesses but still loves love stories, where do you turn?
These favorite romances have withstood that critical test of time: stories people
want
to read. Our list of classics below have omitted stories with explicit sexual content. This list provides suggestions for those trying to tempt a reader to get off the computer and into a book; while simultaneously offering a menu to the avid reader with an unquenchable appetite for another good book.
Note:
You might want to check out this list of
favorite classics for girls
if you have elementary readers.
Romance by Jane Austin
Topping any list of romances is Jane Austin, of course. In spite of the well-to-do women achieving their happily-ever-status, Jane's narratives explore social issues at a deeper level. The simple romances for middle school readers become biting satires when re-read as young adults. Consider reading in this recommended order:
Sense and Sensibility
Pride and Prejudice
Emma
Northanger Abbey
Mansfield Park
The Bronte Sisters
The Bronte trio also managed to scale the list of classical romances. Their books tend to be slightly darker and their British heroines not so well-to-do as their Austin-counterparts. Here are the most widely available:
Jane Eyre
Wuthering Heights
Agnes Grey
Villette
Grace Livingston Hill
From the turn of the century (1890s to early 1900s) hail the brides and heroines from the Grace Livingston Hill romances. Grace was a Christian writer and minister's wife. Her characters were American women, usually from an upper class background but favorably disposed to those less fortunate. She is known for her happily-ever-after endings, even in those stories which begin with love-gone-wrong dilemmas. Here are a few titles, but many more await:
Exit Betty
Happiness Hill
The Beloved Stranger
Matched Pearls
Christmas Bride
Rainbow Cottage
The Girl of the Woods
More than Conqueror
A Girl to Come Home To
Victoria Holt
Popular in the 1960 to 1980's, Victoria Holt (pen name of Eleanor Alice Burford) wrote high-action romances filled with suspense and often mystery. She is known for her unexpected endings with a surprise twist.
Shadow of the Lynx
Manfreya in the Morning
Shivering Sands
Bride of Pendorric
Black Opal
The Captive
Lord of the Far Island
William Shakespeare
I'm assuming you have heard of him?
Most of Shakespeare's plays were romances - at least in part. Romeo and Juliet, of course, being THE love story of all time.
Granted, they are a
BIT
hard to read - hailing from four centuries ago. Modern versions are available. Or try the book by Charles and Mary Lamb,
Tales from Shakespeare.
Mary Stewart
A little more modern than Shakespeare, Mary Stewart's tales take place in the early 1900's. She was known for weaving mystery and suspense into her gothic romances. My favorite of the Mary Stewart novels is
Nine Coaches Waiting
a not-so-Cinderella-like story with a ballroom dance and a handsome heir and orphaned governess.
Daphne du Maurier
Rebecca
is du Maurier's most famous romance - and a most unromantic romance it is. The (unnamed) main character is Max's second wife, who lives in the shadow of his deceased wife, the beautiful, popular Rebecca. The solution to the second Mrs. de Winter's problem is worse than her original dilemma. As a teenager I read these du Maurier's novels, and as I remember they all had dark but suspenseful plots:
Frenchman's Creek
Jamaica Inn
The King's General
New Romances to Note
Books that haven't hit the classic list yet. They're too new!
Wanda Brunstetter
Wanda is a modern writer (still alive) who has written over 70 romantic novels featuring the Amish. She not only is the founder of a new genre (Amish Romance), but her books are popular with the Plain People themselves. A best-selling author, many young and old readers look forward to the next story portraying a simple, devout life. Some of her series include:
The Discovery - Lancaster County, PA
Brides of Lancaster
Brides of Webster County
Prairie State Friends
Indiana Cousins
Hochstetler Twins
Greenhouse Mystery
J. Anne Lezsley
I would title this genre
Futuristic Christian Eutopian Romance
. If you never heard of that genre, neither have I, but it fits these books better than any other description I know. (Note the
eu
topian, not
u
topian prefix.
Cast out by the larger society, Christians in the 22nd century are exiled to a hostile land to fend for themselves. There they pledge themselves to one another and to God (whom they call by the Hebrew name Kadosh - or Holy One) as they follow a simple lifestyle. The first book
The Unforgotten Promise
follows the story of Caeleigh, an outsider who joined their community and experiences The Bonding - the process whereby Kadosh unites husband and wife. In the following books, they continue to plant new settlements while the younger generation embraces The Bonding and flourishes. A little bit of a eutopian soap-opera, it is fun to follow the new couples and growing families as they live out their faith in the midst of personal and community struggles. Subsequent titles are:
The Unbroken Promise
The Unrelenting Promise
The Unfettered Promise
The Unadulterated Promise
Based on events left hanging at the end of Book 5, we will have to assume Book 6 is under development.
Midwives
If you want to continue down the romantic path in literature, why not check out the list of
Midwives in Literature
for both classic and modern tales of women who assist the arrival of the next generation.