Art Masterpiece Mysteries
The Art Masterpiece Mysteries gives students the opportunity to compare the original works of art side by side with similar works that have been changed. Readers need to spot the differences between the two.


This set of two full color books is by Diane Rubin. The books measure 9" X 9" which portrays a significant amount of detail.
Here's an example: On the cover of Book One, Mona Lisa is wearing lipstick, looking in the opposite direction, and holding a flower.
The value? &nbsp &nbsp &nbsp Students really
look
at the pictures as they hunt for the differences.
Spot The Differences - Book One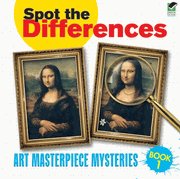 $9.99



This book contains a total of 25 paintings from the following artists:
Ambrosius Bosschaert
Peter Bruegel the Elder
Gustave Caillebotte
Vittore Carpaccio
Mary Cassatt
Paul Cezanne
Edgar Degas
Albrecht Durer
Jan van Eyck
Paul Gauguin
Vincent van Gogh
Martin Johnson Heade
Hans Holbein the Younger
Winslow Homer
Leonardo da Vinci
Emanuel Leutze
Edouard Manet
Jean-Francois Millet
Claude Monet
Rembrandt
Frederic Remington
Pierre Auguste Renoir
Henri Rousseau
Georges Seurat
Johannes Vermeer
---
Spot the Differences - Book Two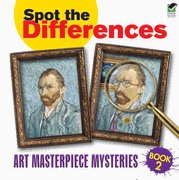 $9.99




The fun and learning continue! Here are 25 different pictures. Some of the artists are the same, but the paintings are different.
Giuseppe Arcimboldo
Frederic Bazille
Albert Bierstadt
Peter Bruegel the Elder
Mary Cassatt
Paul Cezanne
Ralph Earl
Jean honore Fragonard
Thomas Gainsborough
Paul Gauguin
Vincent van Gogh
Francisco Goya
Edward Hicks
Edouard Manet
Grandma Moses
Edvard Munch
Pierre Auguste Renoir
Henri Rousseau
Peter Paul Rubens
John Singer Sargent
Georges Seurat
James Tissot
Henri de Toulouse-Lautrec
Diego Velazquez
James Whistler

We have been looking for a reasonably priced resource that introduces a variety of famous paintings to students. These books fit the bill. As soon as one of our kids picks up one of these books - they're hooked. Even adults have trouble putting them down.