You Are Here:
AF Bobbitt Plaque
Alfred F. Bobbitt Plaque
Memorial to Alfred F. Bobbitt
1926 - 2003
This plaque in memory of Alfred F. Bobbitt is displayed in the Bobbitt Family Cemetery, San Augistine County, Texas.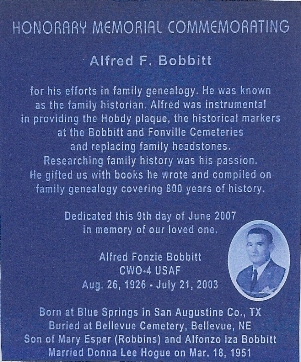 ---
Memorial Plaque
Honorary Memorial Commemorating Alfred F. Bobbitt for his efforts in family genealogy.
He was known as the family historian. Alfred was instrumental in providing the Hobdy Plaque, the historical markers at the Bobbitt and Fonville Cemeteries, and replacing family headstones.
Researching family history was his passion. He gifted us with books he wrote and compiled on family genealogy covering 800 years of history.
Dedicated this ninth day of June 2007 in memory of our loved one.
Alfred Fonzie Bobbitt
CWO=4 United States Air Force
August 26, 1926 - July 21, 2003


Born at Blue Springs, San Augustine County, Tx
Buried at Bellevue Cemetery, Bellevue, NE
Son of Mary (Esper) Robbins and Alfonzo Iza Bobbitt
Married Donna Lee Hogue on March 18, 1951
Bobbitt Family Cemetery In San Augustine County
The Bobbitt Family Cemetery is located 5 miles south of Highway 103 on Farm to Market Road 1751.
An aerial map of the cemetery can be viewed at
Panorami View of Bobbitt Cemetery
. Click the link "Panoramio views of the local area" beneath the feature information.
Buy The Book
Alfred Bobbitt was the main character in the book "In the Shadow of the Pines" by Karen Newell, a true story from the Great Depression.
---
In The Shadow of the Pines
By Karen K. Newell
Paperback
162 pages
From Us
In The Shadow of the Pines
6.95
Paperback - 162 Pages

From Amazon
Also available on Amazon.com. Click the link to the side or the Amazon logo in the space above.

From Kindle
Also available on Kindle.
$2.99 for electronic format.