You Are Here:
Aesop's Scripts
Aesop's Scripts
Aesop's Scripts presents twelve of the most common of Aesop's Fables written as plays for children.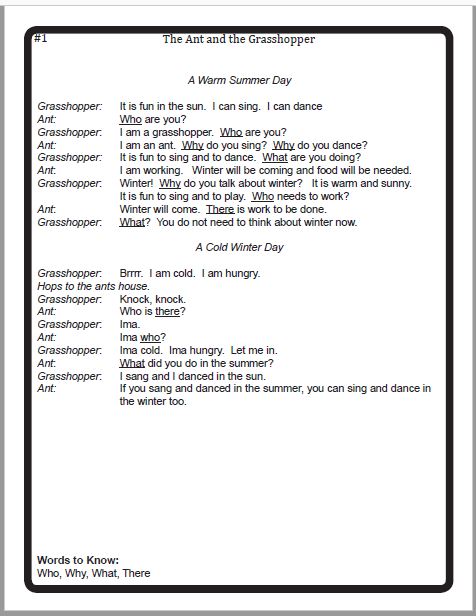 What Are Aesop's Scripts?
Aesop's Scripts are short plays (ie skits) written for early readers. Aesop's Scripts have these features:
Twelve of the most popular fables to familiarize your students with these classical tales.
Written as plays or scripts, with all lines on one page.
Each play provides for two speaking parts. A third narrator can also read though those parts are short.
Written for early third grade or late second grade readers.
Each of the twelve of Aesop's Scripts emphasize two to five common but difficult words. (See below for list of words.)
Provide a great reading review after summer vacation.
Free Download of Aesop's Scripts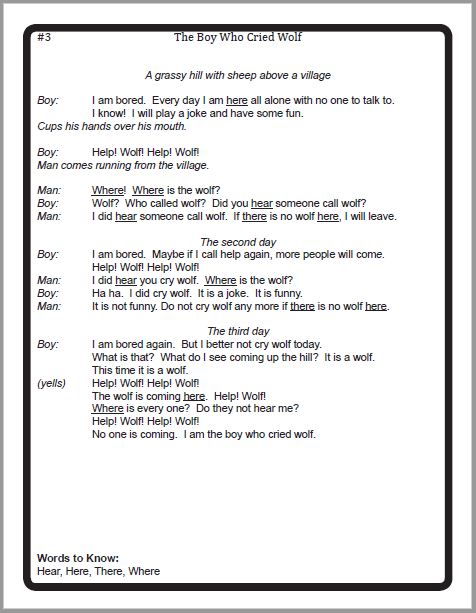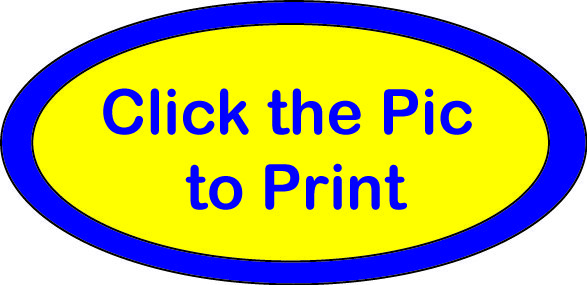 Click to print your free download. It is 24 pages in portrait (usually the default setting.)
NOTE
: There are two copies of each of Aesop's Scripts:
First copy has the lesson's words underlined.
Second copy does not have underlined words.
Aesop's Scripts and Word Review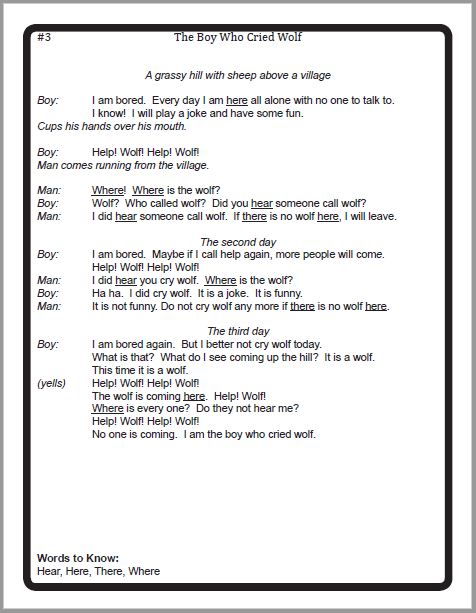 #1: The Ant and the Grasshopper
Words:
Other Features: Knock-knock joke
#2: A Wolf In Sheep's Clothing
Words:
#3: The Boy Who Cried Wolf
Words:
#4: The Jackdaw and the Pigeons
Words:
Heard
Watch
They
Their
Them
#5: City Mouse and Country Mouse
Words:
Thought
Could
Should
Would
#6: The Tortoise and the Hare
Words:
Other Features: Rhyming phrases
#7: The Golden Goose
Words:
Bought
Buy
Something
Anything
Everything
Nothing
Other Features: Greed progresses from wanting something, to anything, to everything.
#8: The Peacock and The Crane
Words:
#9: The Fox and the Crow
Words:
Other Features: Expressions like "Huh?" and "Uh-huh" are also included in the dialogue.
#10: The Fox and the Sour Grapes
Words:
Other Features: An opportune time to contrast "these" and "those" in usage.
#11: The Lion and the Mouse
Words:
#12: The Dog in the Manger
Words:
Coming Soon: Using Aesop's Scripts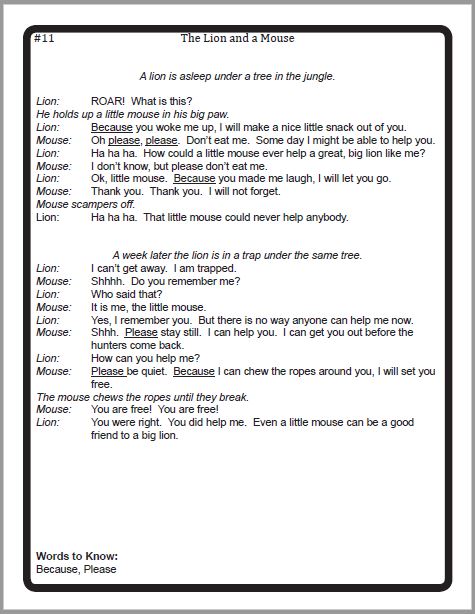 Come back soon for more ideas on how to use Aesop's Scripts to enliven your lessons with enthusiastic readers (and actors.)