Confessions of a Non-Gourmet
First of all, I have to admit I am not really a gourmet cook, or even a chef. I'm just a mom. And a midwife. And a writer.
And no matter how busy I am, people still want to eat. Imagine!
So I'm known to take some short cuts. Actually, LOTS of short cuts. And I will even confess that the local pizza guy knows who orders one large pepperoni and one large sausage pizza without asking for our name.
However, we can't eat pizza all the time (oh I wish), so here are some of the tricks of the trade I put to use. And I'm always looking for more, so feel free to share below.
Dinner's Coming
Healthy, Quick, and Delicious
Here we have nutritious dishes,
Fast and Fun Family Fixes
Okay, my poetry may not have inspired you, but hopefully we'll give you some additional recipes.
A number of years ago a friend remarked that it was hard to find anything that was:
Healthy
Economical
Any one would eat
Being a rather pragmatic person, I figure any two out of three is good (and you have to have #3 or what's the point.)
So here are some fast fixes. They aren't all low cal or low sodium, but they are still lower in calories and salt than pizza.
Chicken and Rice
2 c uncooked rice
1 can mushroom soup
3 1/2 cups water
Boneless chicken breasts
Mix first three ingredients. Spread in a 9X13 pan. Put chicken pieces on top. Bake 45 minutes covered; another 15 minutes uncovered.
Taco Salad
Anything with the word "salad" in it has to be healthy, right? Well, no, but salsa is healthier than most salad dressings. Taco anything seems to go over well in many households.
You can buy the kit, or save some money and buy the ingredients separately with the pre-seasoned envelope, or save any more money and add your own chili powder and pepper to the ground beef.
Lots of variations on this, so I won't write any recipes. But we have Taco Tuesday at our house. There are never any left overs.
Quick Oven Stew
2 1/2 lbs stew meat
1 envelope onion soup mix
8 oz fresh, whole mushrooms
1 can cream of mushroom
soup
1 cup red cooking wine (the alcohol cooks out)
Mix them all together in a covered casserole dish. Bake at 325 for 3 hours.
One of my favorite recipes from my mother.
Yogurt Chicken
One cup plain yogurt
One cup parmesan cheese
One Tablespoon pepper
Boneless chicken breasts
Place breasts in ungreased pan. Mix other three ingredients and spread over chicken. Bake at 350 for one hour.
Black Bean Soup
32 oz vegetable broth
4 cans black beans (2 drained and mashed, 2 undrained)
One cup salsa (hot, mild - your choice)
One cup sour cream
Cheddar Cheese (optional)
Tortilla chips, crumbled (optional)
Drain 2 cans of beans and mash with fork. (Yeah, they look gross, but it'll get better.) Add broth and undrained beans. Add salsa. Cook to boiling, reduce heat and simmer 10 minutes. Can serve immediately or keep on low.
Add sour cream before serving and stir in completely. May top with cheddar cheese and/or crumbled tortilla chips.
Surprisingly filling.
Sloppy Joes And Barbeque
Sloppy Joe is what they were called when I was growing up in the Midwest. Moved to the East Coast and they call them "Barbeques." I still think of them as Sloppy Joes.
Barbeque, in my cooking dictionary, is pulled pork or pulled beef, covered in BBQ sauce. It is what I do with left over roast beef - throw it in the crock pot, doused in BBQ sauce, and served on a hamburger bun a few hours later.
Add a garden salad and your guilt for the high-salt content will be slightly appeased.
Chicken Fried Rice
Great for using left over rice and left over chicken.
3 eggs
2 cups cooked rice
2 cups diced, cooked chicken
1 can peas and carrots (sure you can use fresh - no one here will stop you)
1 T olive oil
chopped green onions (optional)
Scramble the eggs on the stove top as usual. In separate pan fry the cooked rice in olive oil. Toss in all other ingredients and heat.
Pass the soy sauce, duck sauce or whatever condiments your family likes.
Oh yeah, no one ever complained when we added frozen Chinese egg rolls to this combination. Pretend you don't know they are fried.
And mucho gracias to Carla for suggesting this addition to our quick dinner fixes.
Parsonage Stew
Throw all of this stuff in the crock pot late Saturday night:
Pot roast
Bag of baby carrots
Small potatoes (canned or fresh and washed)
Mushrooms (optional)
Quartered Onion (optional)
6-8 cans of gravy (high class version) OR
3 packages of onion soup mix and 3 cups of water (economy version)
Turn crock pot on low. Ready when you get home from church. Or when you are done homeschooling, or back from a hike, or whatever.
Non-Sugary Snacks
Fresh Veggies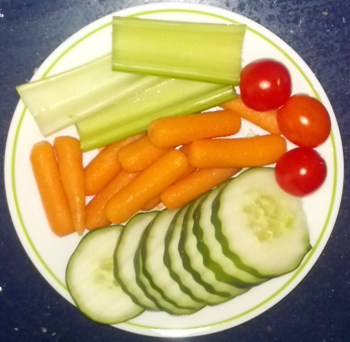 H
ave you bought fresh vegetables with great, healthy intentions, only to have them go bad in the fridge? I found if I wash them when I come home from the store, slice 'em up, and put 'em out, they get eaten up.
Cheese Quiz
For a snack, have three types of cheese. See if they can identify the type of cheese with their eyes closed.
Fruits: All Year Round
Of course we all know fruits are good for us too. Have them draw a cross diagram while they are snacking. They'll pick up several things at once.
Melba Toast
I actually spread margarine on my melba toast. I know that defeats the whole purpose, but I've been doing it most of my life and it's a nice little snack.
Trail Mix
Lots of varieties. Actually, I'm one of those people who tends to skip breakfast, except I know it's not good for me. So I grab a handful of nutty trail mix. Protein on the go and no dishes to wash.
Popcorn
Why is this stuff so much fun to pop? It smells delicious, and makes a simple video a fun family activity. Always gotta have some in the cupboard.
Chocolate Ricotta
Add a tablespoon of cocoa powder to a cup of ricotta cheese. Add two packs of artificial sweetner. Yes, I know that the artificial sweetner isn't good for you either. Chose your poison.
Vanilla Yogurt and Granola
Sweet and crunchy, it makes a satisfying snack. You can make your own granola or buy it. When I'm real lazy, I just use the granola cereal. The kids are happy, so why not?
Instant Oatmeal with Frozen Strawberries
My mother recently introduced me to this. The thawed strawberries add a natural sweetner to the oatmeal. It's a nice breakfast, but also a pick me up snack.
Apple Syrup
Not a snack by itself, but you can make apple syrup by adding a tablespoon of cornstarch to a cup of natural apple juice and cooking it. Use it on whatever you put syrup on.
My Favorite Science Experiment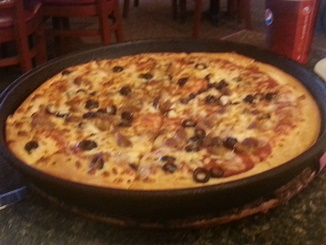 Pizza night is a favorite at our house. And to make it more fun, here's a science experiment you can do. I don't think I ever saw a science project my kids participated in with more enthusiasm.
Have pizza night one night a week.
Choose the same combination of pizza(s) that you will order (for instance, sausage and mushroom.)
Every week go to a different pizza shop in your area
Everyone rates each pizza for 5 or 6 different criteria (the individual ingredients, the flavor of the sauce, how greasy it is, how cheesy it is, how much they like the bread sticks, etc. etc.)
At the end of your "experiment," calcualte the score. You may even choose to take a certificate to the winner.
Taking it up a notch
Keep records of the cost of each pizza(s) as well as the scores. At the end, make a chart with the X axis as the score of each pizza, and the Y axis as the cost of the pizza. Is there correlation between the two?
Now, it really doesn't qualify for
REAL
research. But they will learn a few things about research: subjective and objective criteria, confounding variables (the reason you order the same type each week), the value of blinded studies, etc. So, while your child is not likely to win a scholarship to an Ivy League college based on this, it may actually give them more insight into research than the usual science fair projects.
Hey, and Mom and Dad like this experiment too!
Yes! Yes! I would LOVE to hear your favorite quick fixes, healthy snacks, portable lunches, or other great mother-helping tips.