Erudition
Erudition: A fun game to boost reading skills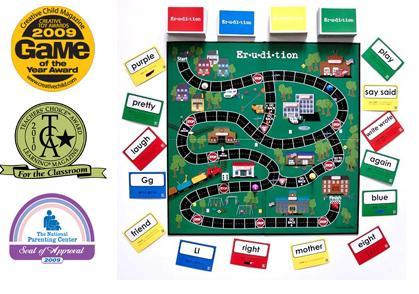 An award winning game that kids love. Common words (both sight and phonics) are grouped into three classes of increasing difficulty; allowing children of different ages and reading levels to play together. The players race to move their marker across the town displayed on the board. Correctly reading your word card earns a bonus move and the opportunity to be the first to the finish line.
Great for your Young Readers
How would you like your son or daughter to become an erudite? (ie. scholar) Reading skills are the best foundation; and Erudition is here to make learning to read fun.
Erudition is a fantastic choice for the following young scholars:
those who like games
those who like to touch and manipulate objects
those who enjoy a little competition with siblings or parents.
Repetition is a key to learning the most frequently used words, and with this game they will ask to play again and again.
What you get
The game comes boxed with the game board shown above, and the usual dice and colored markers. But the real treasure is the colored reading cards. They come in four colors:

Blue - the 26 letters of the alphabet; so your preschooler can join the fun.
Green - Beginning Level; "yes", "on", "my" allow your kindergartner to start on the road to reading.
Yellow - Intermediate Level; "almost", "could", "people" - words of greater difficulty.
Red - Advanced Level; "brought", "together", and verbs with present/past tense like "fly/flew"
The levels are based on the difficulty of the word as well as the frequency. Therefore, some of the red words (such as fly) might be easier to read; but not as frequently encountered in print.
Using the Cards
You can use the cards in the order presented in the game. Or, if you are using a reading program, you can pull out and use the cards of the words you have learned.
In addition to the game, these cards can be used for multiple reading and spelling activities. In fact, this set of cards is much better than other set of word flash cards I have ever seen. They are high quality, colorful, and have over 300 cards. Compared to the local store variety of reading flashcards, this set of cards is worth the price of the game by itself.
Awards
The National Parenting Center Seal of Approval
Creative Child Magazine Award - Game of the Year
The Teachers' Choice Award for the Classroom