Learn For Your Life
Kid Friendly Homeschool Curriculum
Here's the place for kid friendly, easy to use, fun to teach, ready-in-a-minute, hands on learning resources.
A Great Way to Teach and A Fun Way to Learn
Kaleidos Language Arts
Introducing a program that has taken decades to develop: Kaleidos Language Arts.
Literature lovers rave about our choices of classic literature. Travel the continents, cross the high seas, engage in dangerous adventures, and contemplate thoughtful dialogue; all from the safety of home and the cost of a library card.
Write On: The Kid-Friendly, Mother Pleasing, Gentle Way to Learn to Write
is our best-selling writing program that makes writers out of reluctant scholars. Our secret? They get to write about what they are interested in. We provide the model, they provide their own ideas. It's a winning combination.
Those burnt out on traditional grammar books will have a bang with
The Big Bad Grammar Slammer
. No more copying boring sentences or circling nouns and verbs in a workbook. They use the tools of grammar to construct sentences that convey their ideas.
Struggling with spelling? The gentle approach of
Syllable Savvy Spelling
breaks words down syllable by syllable and helps students see how letters form syllables into words.
Kaleidos includes even more. Our weekly schedules include computer skills and speaking skills. Each book contains the instructor's guide that shows how to adapt the lessons for students who are strong or are struggling in language skills.
Click the pictures of the Kaleidos books above to learn more about this dynamic curriculum.
MatchCard Science
Whether you have one student or are pursuing multi-level teaching with different grades, the MatchCard Science Unit Study is made for action-loving families.
Are you teaching a homeschool co-op science class, or want to start a simple group for two or three families? MatchCard Science to the rescue. The content and activities are planned, now you get to have the fun and watch motivated learners grow.
Our Mission

Learn For Your Life exists to provide easy-to-use, fun-to-teach, ready-in-a-minute resources that promote hands on learning and student participation.
Motivation and inspiration are the keys to life-changing education. We design resources that allow the student to include their own natural interests in their course of study.
Quality content, necessary skills, and hands-on projects are combined to give you a curriculum that meets our two simple goals.
Two Simple Goals

1. Make Parents' Teaching Time Effective
2. Make Students' Learning Time Rewarding
Homeschooling is an investment of time. We want the time we spend teaching to be effective. We also want to impart a love of learning, which happens when the student's homeschooling time is rewarding and enjoyable.
We love kids and we love learning. So check out our resources, and feel free to drop us a note from the CONTACT US button at the top of this page.

About Our Site
Hands-On Learning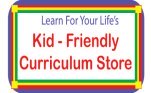 See All Products