Time4Learning and Dyslexia
by Jennifer
(Aurora, CO)
I have a 10 yr old son with severe dyslexia and he uses Time4Learning as his main curriculum. I highly recommend this program for dyslexic kids. They have a little parrot icon that you can drag and drop to whatever you want him to read for you, and you can also use the more sophisticated Natural Reader software in conjunction with the lessons too. (free!) You don't have to enable those functions if you don't want your kids using them, but for a dyslexic child this is wonderful!

Response

I have used Time4Learning as a supplement and can see how many children would really respond well to this on-line program.

Some of the nice features are that the soft-ware does the grading and keeping score of the points.

It also allows students to have some fun game time as a reward for completing a certain amount of work. You can think of it as a little bit of on-line recess. This might really be a plus for those students who really like computer games.

I'm glad you are finding it works well with your son with dyslexia. The interaction that occurs as a result his manipulation with his own hands is probably a benefit as well.


Join in and write your own page! It's easy to do. How? Simply click here to return to Homeschool Curriculum Reviews.
About Our Site
Hands-On Learning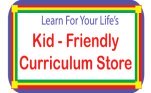 See All Products
By Karen Newell Copyright© 2009 - 2018 Learn For Your Life All Rights Reserved