Cedarmont Kids 100 Sing A Long Songs
by Lucy
(Minneapolis, MN)
My kids love this set of sing-a-long DVD's. They contain an upbeat mixture of old-fashioned folk songs, hymns, and patriotic songs as well as more modern children's songs. Children in costumes sing the various songs in different indoor and outdoor settings. This has introduced my kids to a number of patriotic and folk songs that were common years ago but have almost disappeared from radar of the current generation.

I do not believe in plunking the kids down in front of the DVD player as a baby-sitter; but in those situations where I have needed a little relief this set has come through for us many times. An additional pay-off has come as I've heard them singing the songs together in the car or as we are traveling in the car.

I give a high rating to this entertaining musical set that is both old-fashioned and modern at the same time.
Join in and write your own page! It's easy to do. How? Simply click here to return to Homeschool Curriculum Reviews.
About Our Site
Hands-On Learning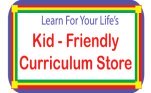 See All Products
By Karen Newell Copyright© 2009 - 2018 Learn For Your Life All Rights Reserved