Base 10 Blocks
by Erin
(Baltimore, MD)
This is a great tool for teaching the base system of tens, hundreds, and thousands. The ones are little blue blocks 1 cm squared. The tens are sticks of 10 of the unit blocks. The hundreds are a square the size of 10 of the 10 sticks. The thousands are a cube made of ten of the hundred squares.

My son just couldn't understand place value until I bought these blocks. They are a little expensive; but worth it. He suddenly "got it" after one session.

At first it seemed like a waste of money to spend on something he caught onto in one lesson. But he was having trouble and couldn't really progress in addition and subtraction until I bought the base 10 blocks.

And isn't that what math tools are supposed to do - make the concept understandable by touching them?
Join in and write your own page! It's easy to do. How? Simply click here to return to Homeschool Curriculum Reviews.
About Our Site
Hands-On Learning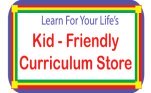 See All Products
By Karen Newell Copyright© 2009 - 2018 Learn For Your Life All Rights Reserved