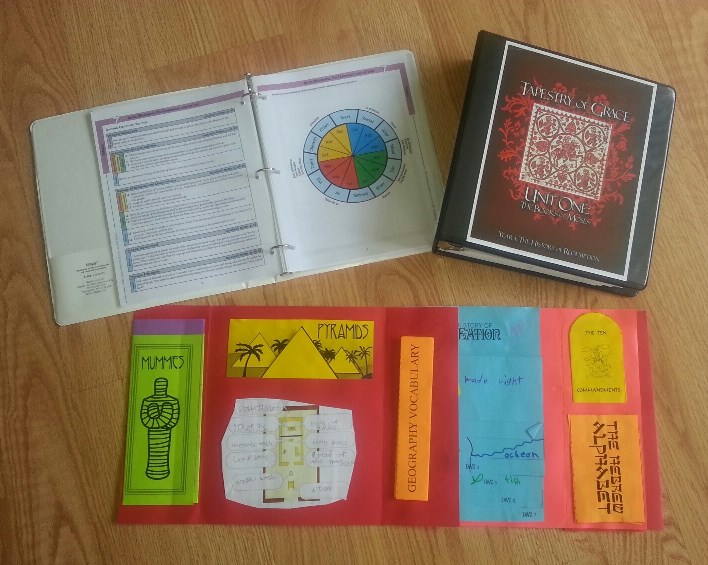 What is Tapestry of Grace?
Tapestry of Grace
is a history-based curriculum for homeschool families. It can best be characterized as:
Unit Study approach (does not use textbooks)
Intended for the entire family (K through 12) to learn together
Comprised of 4 years of World History (each year sold separately)
Cyclical: An individual student could go through the 4 volumes three times in their 12 years of schooling; each time at a more advanced level
Integrated: Includes multiple subjects

History
Geography
Language Arts
Science
Bible
Art
NOT INCLUDED: Math

Christian
Classical (using levels of grammar, logic, and rhetoric)
Four Years of Tapestry of Grace
Each volume provides a family with one year (four quarters, 36 weeks) of curriculum materials.
Year One: The Ancient World
Year Two: Middle Ages to Modern Era (Fall of Rome to American and French Revolutions)
Year Three: Nineteenth Century (that's 1800's - I know you knew that)
Year Four: 1900 to the Present
Every year (or volume) provides you with the instructor's guide and student materials for all students in Kindergarten through 12th grade.
Four Levels of Learning
Every lesson in the curriculum has four different levels according to age/grade. These levels are:
Lower Grammar: Kindergarten - 3rd grade

This is for non-fluent readers. Emphasis is on presenting basic facts of history.


Upper Grammmar : 3rd to 6th grade

These are independent readers who begin sequencing and understanding facts of people and historical eras.


Dialectic: 6th to 9th grade

Your middle school students will make connections between facts and concepts and debate different ideas.


Rhetoric: 9th to 12th grade

High schoolers read the great and influential books in history and analyze and synthesize arguments.


Again, when a family buys one year of curriculum they will get the educational plan for all of these students. If you continued to cycle through the program, after four years the student would study the same era of history, but at a more advanced level.
Two Formats Available
The Tapestry of Grace curriculum is sold in two formats:
Print (hard copy that is mailed to you
Digital: On line access and you print it yourself
Buy both at a discounted price (which is what I did)
Advantage of Print
Are you kidding? Do you think I want to print an entire volume of 2000 pages when I can buy it already in color and perfectly hole-punched at that. No, no if I tried printing it I would run out of paper, run out of toner, or end up printing pages 56-81 with the holes on the right side of the page and have to go back. No thanks.
Plus I am SOOOO old-fashioned and prefer a book I can take outside on the deck or with me in the car. Digital edition has you stuck to your computer screen.
Advantage of Digital Edition
The digital edition allows you to print what you want when you are ready for it.
It also has live links to supplemental websites with great pictures, maps, or little videos of the content for the lesson.
Buying Both
I bought both the digital edition and print edition of Volume 1 in 2013. At that time they had some stipulation about not being able to resell if you bought both. I'm not sure what the details of that policy are since I never buy anything with the thought of re-selling it. If it is cyclical why would you resell it unless your youngest child is in 9th grade or older? However, if you plan to resell your curriculum you will want to look into the details of that policy.
Other Resources
Tapestry of Grace provides the teacher's and student's materials. However, other books are required for this program.
This curriculum uses what I call the Best Books Approach to unit studies. They list literature, non-fiction books, atlases, and other materials the student will read at particular times during the course of the study. These materials can be purchased from them or acquired individually.
A nice feature of their website is that they do list the resources needed by units (9 week quarters - there are 4 units in a year.) While you buy the volume for the entire year, it will might be easier on your budget to buy the other materials every few months. This is particularly true if you have several students studying at different levels.
Supplements
Okay, so this program consists of:
Tapestry of Grace materials (digital and/or print) for 4 units (quarters) a year: student and teacher materials
Required and extra resources from other publishers necessary to complete the studies
Optional supplements available on the Tapestry of Grace website (some are downloads, some are hard copy, some are available in either format)
These supplements include:
Maps - additional copies of the maps that are in your curriculum

May purchased by unit or for the entire year
May purchase by individual level (lower grammar, upper grammar, dialectic, rhetoric)
Print Or digital available



Writing Aids - in addition to the writing assignments that are given by grade each week in the curriculum

Digit and/Or print available



Evaluations: Additional copies of the tests, quizzes, and exams may be purchased

Available in color print, black and white print, or download
Available in the four levels for each year



Lapbooks: See the picture above
These kits give the materials to do the lapbooks which you can see pictured above. Unlike the supplements listed above (which merely give you additional copies of what is in the main volume) this is ADDITIONAL projects. They provide a nice, colorful way to summarize each quarter's content.



Available for the full year or by each unit (9 week quarter)
May purchase as

Template (download): you print it for one or more students
Individual Student Kit: the mail you one copy including the card stock and different colored papers
If money isn't an issue I recommend the individual kit with a variety of colored papers. However, if you print on all white paper you can still get the multi-colored effect if your student traces words and pictures with markers



Pop Quiz - weekly "Pop Quizzes" are audio recordings to catch Dad up to speed on the historical content

In my humble opinion this is a bit of poor marketing: Dad gets a quick audio update of the content while poor Mom has to wade through 50 pages of Teacher's Notes? However, it's a cute play on words (pop) so I'm guessing that's why they call it this. It's a little confusing, instead of just calling it "Audio Summary" and making people wonder why the pop quiz isn't on the Evaluation supplement. Maybe I'm just a poor sport because I didn't buy it. Nonetheless the audio summary might be a great idea that would have a number of different potential uses - in addition to clueing Dad into the course of study.


Government Documents - Resource material

This is another convenience item: most of these are going to be available as public works whose copyright has expired - if there ever was one. But if you buy this you don't have to go look for them.


And More: You get the basic idea: they have different supplements to make your job easier and prevent you from having to run to a copy machine every week. Likely they will continue to add supplements to meet a variety of needs as time continues.
A Word About Supplements
In short, supplements are convenience items but when you start to add them for each unit and for each student level they start to really add a lot of money to the cost of your curriculum.
My personal recommendation for families who use this (or similar) unit studies is to:
Buy the main curriculum (print, digital, or both) and become familiar with it before adding lots of supplements


If you buy the digital, you will be able to print the copies of the maps and tests, etc. This will make those supplements unnecessary. However, if you buy just the print version of the curriculum, then you might consider getting the Maps and Evaluations for convenience.


Consider the Lapbooks. If you and your students like lapbooking (I do) then I recommend the individual kits if money is not an issue. If you are on a budget, you might just want to buy a $15 kit for the first quarter, and see if it is worth your money.


Don't sweat the supplements. Buy the curriculum, become familiar with it, and realize you can add the supplements after you have used it for a week or two if you feel they will be helpful to you.
Tapestry of Grace Primer
Is your oldest child in kindergarten and you are chomping at the bit to get started?
While the lower grammar materials do have projects and books for kindergarten and up, it is a bit of overkill to buy the program for your one child. The Tapestry of Grace Primer was recently published to allow a one year study of all of world history for the younger kids. It is comprised of 12 "mini-units" each of which provide 3 weeks of study. While usually done in one year, it can be stretched to two years. I have not used this primer which was recently released so cannot provide a review.
A Closer Look at Tapestry of Grace Lessons
Just to give you an idea of the extent of these lessons I have provided some pictures I took from our book (Year I, Unit I).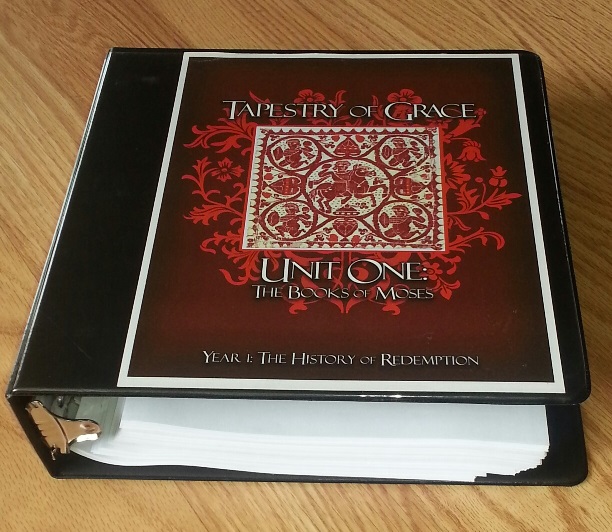 This is ONE UNIT ie. 9 weeks.
One nine week unit of Tapestry of Grace is as large as most of the other unit studies curriculum for a year. There are approximately 500 pages for each quarter. Keep that in mind if you are comparing costs.
---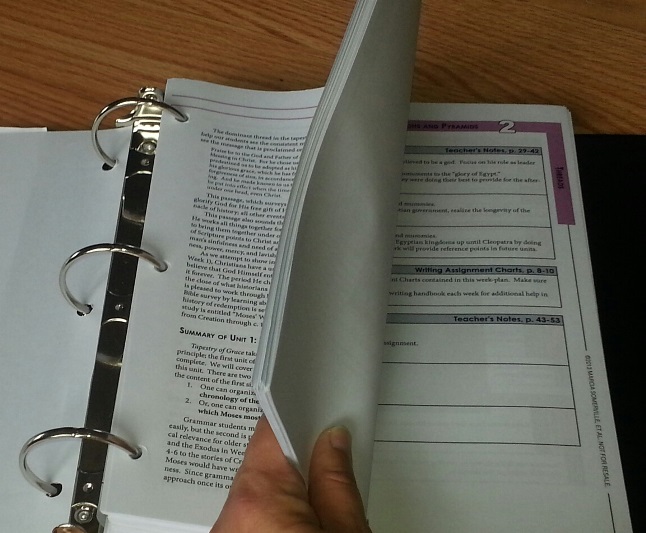 This is ONE WEEK of lesson plans.
This is the material for one week and includes schedule, resources, student materials and teacher's notes for the full week.
---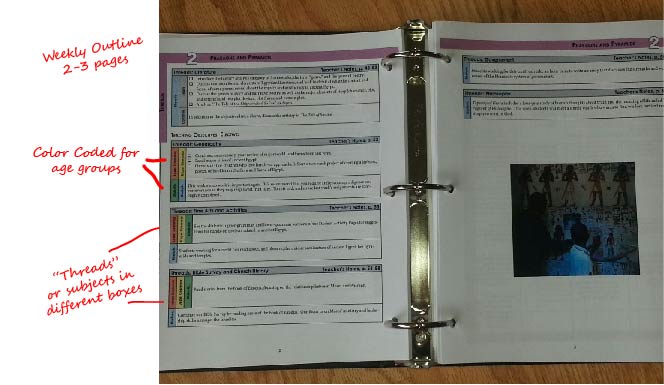 Your Mutli-Color Outline for One Week
Here is the "BIG PICTURE" for the week which is a 2 to 3 page chart of all the activities for all the children. The different sections are called "threads." I would call them subjects: literature, writing, geography, etc. The different colors along the edges are for the different age levels (lower grammar, upper grammar, etc.)
---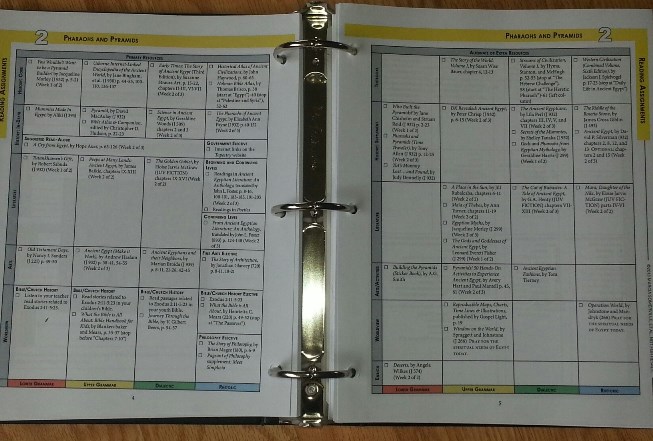 The reading assignments from different resources for the week
The left side is the required/recommended reading. The right page is extra reading or alternatives if you are unable to locate one of the recommended sources. Note the color codes at the bottom for the different age levels. These are all one the multi-color outline (above) but are listed in greater detail.
---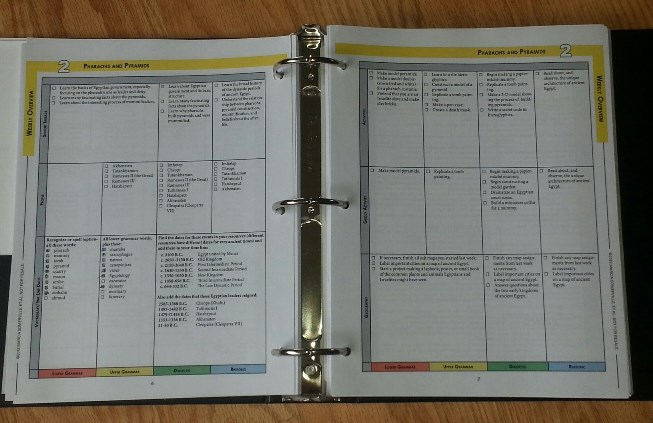 Here are additional activities for the week.
Here are other activities for the week, such as maps, timelines, vocabulary words. These are all listed on the multi-color outline (above) but gives greater detail.
---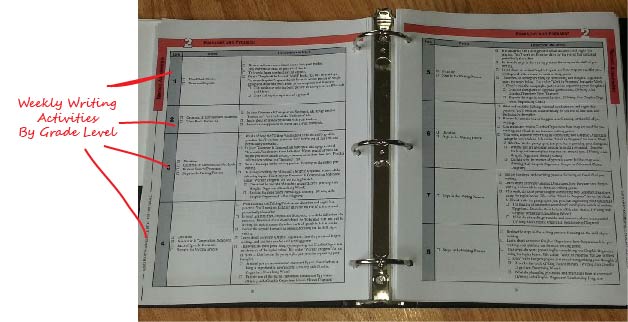 Writing Assignment for the Week - by Grade
Writing is the one subject that is done by grade (1st, 2nd, 3rd, etc.) Each week at least one writing assignment (often more) are given for each grade level.
---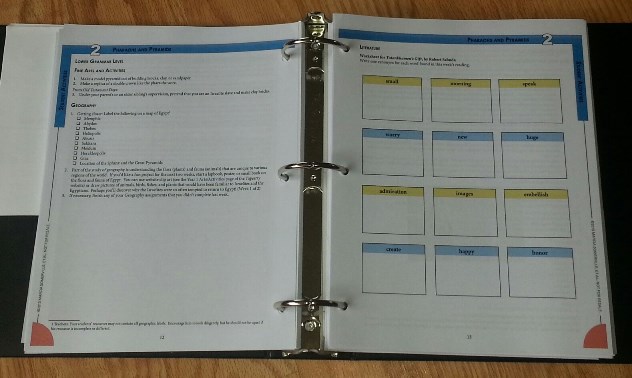 Student pages for one week for Lower Grammar
These are the student's pages. See the orange quarter-circles at the bottom of the page? That indicates it is for your lower grammar students. Purchasing supplements will allow your students to write on these pages while still maintaining the original for use in later years (or to resell.)
---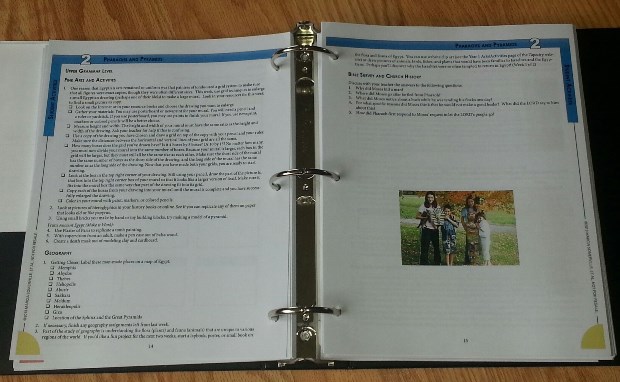 Student pages for one week for Upper Grammar
The yellow quarter-circles at the page bottom indicate this is the student's page. A list of their activities for the week is on the left hand page (all of which were on the multi-color weekly chart above.) On the right hand page is a comprehension worksheet regarding a literature book read that week.
---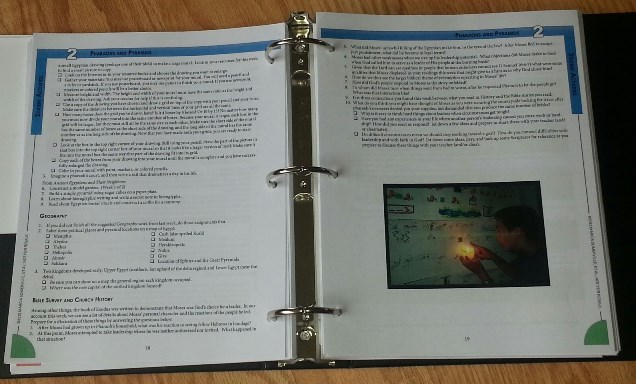 Student pages for one week for Dialectic Level
Your dialectic student pages are indicated by the green quarter-circle at the bottom. You can see at a glance that the material is getting more advanced. At this level I think it is particularly nice that the student has their own map of the week's activities.
---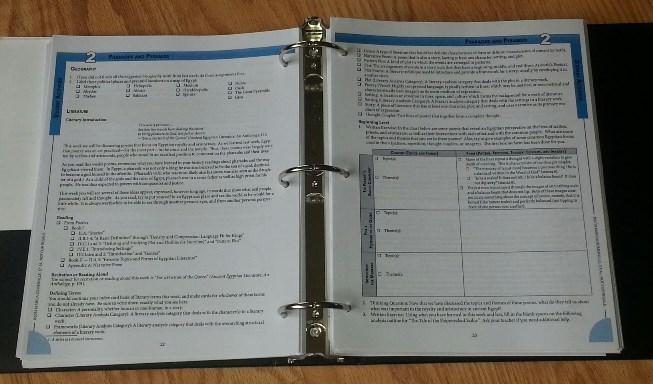 Student pages for one week for Rhetoric Level
This is two of the five pages for the rhetoric students for this particular week. It gives the student their own map of all their activities as well as discussion questions.
---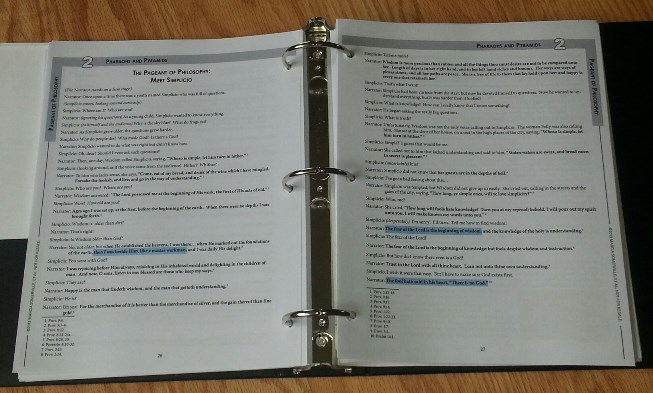 Philosophy Pages for Rhetoric Students
Using Plato's strategy for rhetoric, each week's activities includes a "mini-play" for older students that deals with philosophy, logic, ethics, and/or theology.
---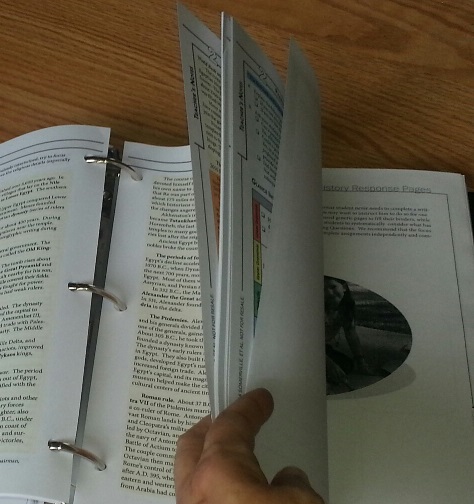 Teacher's Notes
All of the material above was from page 1 to page 27 of the outline of activities and student materials. Note that the teacher's note are from page 27 to page 58 for this week's lesson. This includes some background information as well as the answers to all the questions that are on the pages above.
Strengths of Tapestry of Grace Curriculum
Unit Study - Student Directed Approach
One of the greatest strengths of Tapestry of Grace lies in the fact that it is a Unit Study. Unit studies are geared toward motivating the student to learn and involving them in the process of learning.
Of course, the author's of textbooks would
like
to do the same thing. But the genre of textbook and traditional studies inevitably leads to the student as the passive recipient of learning.
How can this curriculum, with it's assigned readings and activities, do any better? Like most other unit studies, this curriculum provides plenty of room for choices. Students get to choose which of the assigned or additional activities they will do.
In addition, the fact that they use a variety of books and resources is also a great motiviator for most students. Instead of using the same textbook for 36 weeks, the students usually get a new book at least once a week.
And students can choose what they will do with that book. Read it and add it to their log of books read? Do one of the hands-on activities? Make a map or poster about the content on one of the pages of the book to add to their lapboook?
Every One Learns Together
This is perhaps the greatest strength of Tapestry of Grace compared to other unit studies available for homeschoolers. All ages have activities and readings that appeal to their age group, but at the same time they are all learning about the same era of history.
Your older kids and younger kids will start talking to each other about what they are learning. You can watch a movie from a particular era and everyone will join in (even those whose grade level may be above or below that level will be interested.)
Older and younger kids will often listen in on read-alouds because they are interested. In fact, the older kids might want to read the read-alouds to the younger.
There are other unit studies that provide K-12 learning in one curriculum, but in my opinion as a connesiuer of unit studies, Tapestry of Grace gets the gold ribbon for providing the best curriculum that is right on age level for all students.
Choice of Scope and Sequence
Another feature that I particularly like about this curriculum compared to the other homeschool unit studies is the way they break down the four years of study. A comparison of different unit studies shows similarities and differences in how they cover material. What I like about Tapestry's S&S is:
One year of Ancient History from Sumeria to the Fall of Rome.
They aren't dragging it out or whipping through the study of the important early cultures.


Studying American History in context of what happens in the rest of the world
Often American students don't hear anymore about what happens in Europe once Columbus set sail in 1492. The rest of the world didn't suddenly dissapear.


A full year for 1800's and full year for 1900's
The last two hundred years were eventful. Again it's valuable to see how events on different continents may have been inter-related.
Student Weekly Pages
I appreciate the fact that each student has their own list of activities that they will be doing for the week. You have the choice of:
Taking it out of the master and giving it to each student (assuming you only have one student at each level)
Getting the digital edition and printing a copy for each student
Buying the supplement
May Purchase Quarterly Units
Tapestry of Grace is one of the few companies that allows you to purchase their curriculum and supplements by the quarter.
Obviously, being able to spread the cost over 4 quarters is easier on a family's budget.
This quarterly option also allows a family to try the program as a summer learning option before committing to the full year. This can be an inviting option for numerous families.
Weaknesses Tapestry of Grace?
They Do Not Have DAILY Activities
The most serious flaw in their program is the fact that the weekly schedule does not include DAILY activities. For instance, one assignment directs a student to read page 86 to 99 in a particular book. Well, that seems easy enough, right? Basic math would tell me that if we do that assignment over 5 days we should read 2 pages a day and 3 pages the last day. But, depending on how the content in that book is covered, that may not make sense.
So for every reading assignment and every other activity the teacher has to break the weekly assignments into daily assignments and write them on another schedule for each student. That includes finding the book, flipping through it, and creating the daily assignments for the student.
This is particulary difficult when it comes to the Bible. In one weekly lesson it is listed, "Listen to your teacher read stories related to Genesis 1 - 10."
Thank you very much, but that is a lot of content to cover in five days. Which stories? Which ones will they refer to in the weekly lessons? Should I read those stories or instead read some of the stories that aren't covered?
Prepare to spend at least an hour or two per week creating the daily assignments from their weekly outline.
Educational Objectives
The educational goals they have listed for each week do not appropriately reflect standard educational objectives. By this I mean they use broad terms such as "Discuss, learn, consider, talk about."
Instead it would be more appropriate to use valid educational objectives from Bloom's Taxonomy which include terms as "Identify, explain, compare, develop." For families who live in states where it is required that families submit educational objectives to their districts, it would be beneficial if correct objectives were provided.
Overwhelming
On the one hand it might be considered a strength of this program that it provides so much material. On the other hand, this could be considered a weakness if parents find themselves overwhelmed.
I found myself flipping back and forth through the material quite a few times before I got the hang of how it is laid out. Answers to the discussion questions are in the teacher's notes after the student's pages. With so much information at one's fingertips, it can be difficult to quickly find a specific answer.
Cost
Ahhh, the big question. How much does this program cost?
I just went to the website and indiscriminately added up one year's program and almost all of the supplements. Then I randomly picked two levels (Upper Grammar, and Rhetoric) and added up the cost of the 115 books recommended for those two age groups for the entire year.
The cost for everything came out to a little over $2000 for the year for the two students.
Yeah, I know. Ouch!
It is comparable to other programs that utilize unit studies with a wide variety of materials. But that doesn't make it any easier.
There are a few ways to save money.
1. Use the Library
Whether you use this or any unit study, a large percentage of their books are available at your local library or through inter-library loan. You can save half of the program that way.
2. Buy One Unit at A Time
This is one of my favorite features of this program. You can choose to buy the curriculum, many of the supplements and all of the resource books one quarter at a time. While there is a small discount for purchasing a full year's curriculum compared to 4 units, it is only a few dollars.
3. Don't Buy Supplements Until You Have the Program
Plan to spend some time looking at it before you add the supplements. They add up to almost $400 for the year. Of course, time is money as the old saying goes, and it might be worth the $400 to you in the time savings. But check it out first.
A Great Program for Families Who.....
This is a great program for families that:
want all their students to learn together
like integrated unit studies with a variety of resources and activities
are willing to put a few hours each weekend into breaking the weekly assignments into daily tasks.
This is probably not the program for you if:
You don't have time or organizational skills to create the daily schedule from the weekly master.
Check Their Website
If you are interested in Tapestry of Grace I do recommend you spend some time looking at their video introductions to the program at
Tapestry of Grace.com
. Plan to spend a little time (ie one to two hours) becoming familiar with their program, it's required and recommended resources, and available supplements before you know for certain what you will need.
My Recommendations
If you do use the program here are a few recommendations I would add:
1. Use a large AND small binder
I found it easiest to keep most of the material in the large 3 inch binder. But that is hard to work with on a daily basis.
Putting this week's lesson AND next week's lesson in a regular size 1 inch binder made it more do-able.
2. Take Time to Organize
You will need to commit time at the beginning of each unit and some time each week to getting organized. This includes creating the daily schedules from the weekly master as well organizing the materials.
While this does take more oganizational time and skill than your average text-book type program, it is time well spent for both you and your students. Developing a tracking system for each student's activities and materials will help everyone in the home become more organized.