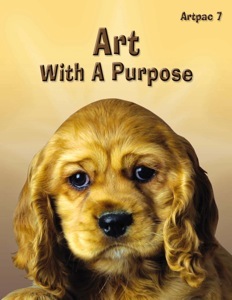 This program has eight levels, starting with first grade in Level 1 and going through Level 8 for eighth grade and above. The levels do not build on one another, so that a 5th grade student who has never used them before can start at Level Five.
However, if you have an older student with little artistic ability or previous instruction, you may choose to get the level right below the current grade.
Negative Art With A Purpose Reviews
One of the only complaints I have heard about Art With A Purpose was an on-line critique that said it was little more than coloring pages. I will agree that with each level the first few lessons are devoted to coloring. However, they are not simply coloring pages.

In fact, it was through this program that I really learned how to color. You and your students will learn
How to color lightly and how to color vividly
How to layer colors
utlining and feathering and other techniques
These coloring techniques can later be applied to painting; but are first learned with old fashioned crayons.
Other Reviews
Another disadvantages of Art With A Purpose is that each of the many art skills are only introduced briefly at each level. It is true that if you want to master oil paints, master calligraphy, or any other art media you will need additional lessons.
This could, of course, be said for any art program, including private art lessons. Mastery will take additional time, practice, and materials.
The advantage of this program is that it does introduce students to a variety of art techniques, any of which can be developed further.
How To Use this Program
There is one lesson a week which will take approximately 30 to 60 minutes, depending on your children. Many of the activites are seasonal: so if you start the first lesson at the beginning of September you will be doing Fall projects at the beginning, with Christmas, Springtime, and other activities arriving at the appropriate time.
These materials are very reasonably priced at $7.95 per year, and at this price I recommend getting an extra pack for yourself (you'll enjoy these projects as well!)
Another recommendation: Look ahead several weeks to see what supplies you may need (such as colored pencils, water colors, construction paper) and make sure you have it on hand. I have found it worthwhile to obtain all the materials for the year during the summer months - though that certainly is not a requirement.


This program is published by a Mennonite company, and their drawings and projects reflect that background. Check out the eight Art With A Purpose artpacs or order Art With A Purpose.