Homeschool Computer Skills
These resources for homeschool computer skills will provide your students with the computuer literacy they need.
Computer Scope and Sequence
If you have elementary students (or older who need the basics of computer literacy), you will want this
scope and sequence
for computer skills.
Role of Computers
This ARTICLE discusses the role of computers in your homeschool program.
Do you want all or part of your students work to be done on computer?
On-line programs? What role will they play in your homeschool?
Keyboarding Skills
Practice
Practice
Come back anytime and practice keyboarding.
You Are Here:
HOME&nbsp >
Homeschool Computer Skills
About Our Site
Hands-On Learning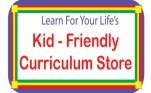 See All Products
By Karen Newell Copyright© 2009 - 2017 Learn For Your Life All Rights Reserved